I've developed a substantial interest in various conspiracy theories, or "truther" stories. The ones that grew out of the Sandy Hook event were rapid, and largely based on all of the misinformation that was being reported during the first hours following the shootings. The media tries to glean information from anywhere and everywhere to be "relevant" and frequently misreports a whole series of details on incidents such as this. Most are corrected within hours, some within days. And, some live on forever in some readers' minds. This is one of the paradoxes of trutherisms, the media is constantly slammed for "covering up" the truth, but yet, it's quoted quite freely as though everything it publishes is "the truth."
Part of the claims of the various truthers about Sandy Hook was based on websites that showed earlier dating than the actual event on the 14th of December. I, personally, interpreted it as a possibility of parallels -- but Michael shot me down when I asked. :)
Back on January 28, 2013, I asked Michael about the discrepancies in website dating of various Sandy Hook stories -- here is the exchange:
9:55 AM 1/28/2013
[GeraldineB] I would like to ask "how is it possible" for multiple websites to be created about Sandy Hook but before the Sandy Hook date, Dec 14, 2013. There are at least six different websites that were created about Sandy Hook before the event occurred on the 14th.
[MEntity] As far as we can see, this is a misunderstanding or misinterpretation of familiar, faulty algorithms that occur in the dating of materials for the Internet.
[MEntity] This anomaly appears to be the case for any number of reasons, but it is not unusual for documents used for later content remain with the date/time that the original document was created, and not the publication or population of the content.
[MEntity] In addition to this, dates of publication or creation can be altered quite easily.
[GeraldineB] Deliberate hoax?
[GeraldineB] I have speculated that the internet might be subject to various parallels
[MEntity] Though this event is not completely accessible to us, from what we can see, most of the anomalies appear to have been generated from replacement of content within prior created documents.
[MEntity] We would not, necessarily, consider this a hoax, nor that the event in question, itself, was a hoax or conspiracy.
[GeraldineB] You mean an existing posting was altered after the fact to something "more recent"?
[MEntity] As for anomalies regarding parallel shifts, we have never seen static evidence of any anomalies beyond memory.
[MEntity] That is a fairly accurate understanding, Geraldine. To clarify: if one were to create a (literal) template on a certain date, but publish it on another, the creation date can remain as the reference, even after publication. It is not unusual for the creation of templates for use in later purposes.

[
MEntity] Beyond that understanding, there are also mistakes in algorithms that might generate inaccurate dates for numerous reasons.
[MEntity] With that in mind, that is exactly how parallel shift anomalies integrate so seamlessly.
[MEntity] There is always an "explanation.
"

[GeraldineB] Oh so it could be parallels, but with an "explanation"
[MEntity] There would, without question, be parallels generated from such an explosive event that involved so many variables and fragments.
I have to admit that I didn't exactly "buy" Michael's take on the subject; however, without knowing more, it made enough sense to consider as a possibility. Today, in an article that debunked many of the circulating
"hoax" theories
, I found this:
Memorial Websites And Facebook Pages Were Already Set Up

Some hoax theorists have questioned why some websites and social media pages set up as donation sites or memorials for victims were apparently date-stamped prior to the shooting . Isn't that proof that there was knowledge of the shooting before Dec. 14, they ask ?
No, it isn't. As many people with blogs know, Google crawls webpages inconsistently and, as Insquisitr notes, "if a page is repurposed to host other information than it originally displayed, it may show up as having been 'published' earlier."
It's easy to illustrate this phenomenon. As Reddit user Oltimega points out on this thread about the issue , if one uses a date-restricted search, all kinds of articles come up about the Newtown shooting with Google date stamps weeks, months and even years before the shooting occurred.
In this example, the dates for these articles are from the 1990s: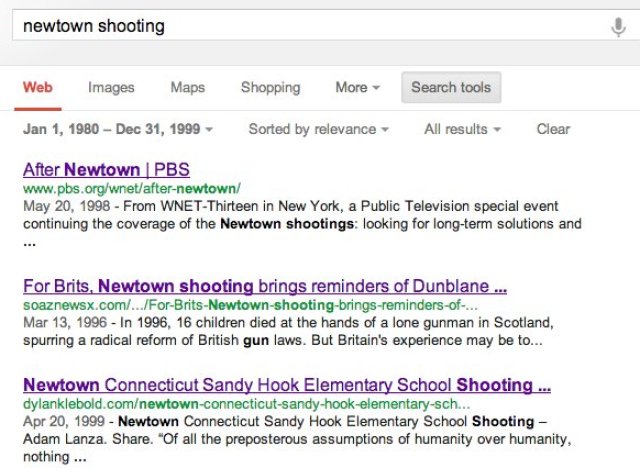 As for Facebook pages, if a user creates a page on one day and then changes the title and contents a week or a month later -- without changing the URL -- the time stamp retains the original date. This seems to have been the case with first-grade teacher Victoria Soto's memorial page, which allegedly had a date stamp before Dec. 14 .
So, I would say that Michael has been validated on something quite esoteric in our modern technology.