Back in December, I wrote up a blog entry, "My Current Time with Buddha," where I described what seemed like an innocent quest for tea vendors and purveyors online, specifically for Pu-erh teas, then down the rabbit hole to teapots, specifically Yixing teapots, and expanded into a reawakening of a previous interest in the Buddha, which included downloading multiple free Kindle ebooks, very inexpensive MP3 Album downloads, and a test month of the Amazon Prime membership. The focus was an ever expanding interest in Asia, mostly Chinese. It even included using my Team POF session on asking about previous lives in China, A View into Essence's Time in Asia (Part I). 
This all started because I bent to Black Friday shopping fever online and purchased a Kuerig Single Serve coffee maker. It wasn't long before I was researching various brands of K-Cups, not only coffee, but tea, too. While I placed an order for some additional K-cups, and got them on sale, I realized that there were two primary issues about K-cups: 1) They really are an expensive way to indulge in a coffee habit; and, 2) I'm not the biggest Greenie, but I'm not completely immune to ideas about creating a bunch of useless garbage for the landfills, either. Ekobrew cups were next on the list; so, I could make up my own K-cups Then it was onto teas -- reviving an interest from several years back about Pu-erh tea.
Anyway, I found a Laughing Buddha Yixing teapot I really liked, but it was either out of stock in some places or full price on others (around $65). But, Teavana had them on sale for $21.95. Well, that settled that! On December 18th, I ordered one of the teapots, a 2 oz order of Strawberry Pu-erh, and received my order today. I've got to admit that 3 weeks is a much longer time period for shipping than I've become accustomed to with Amazon, 6pm.com (very marked down shoes,) or even Kohl's; however, it was well-packed and arrived safe and sound, and was hardly an order that required speed. And the box included not only the teapot that I'd ordered, my tea, but also two free teacups (each marked $10.95) and the standard free 1-oz sample that they include with all orders. So, I'm hardly going to give Teavana low marks on my review. 
I think that both of these teacups are handblown glass, rather than mold-made.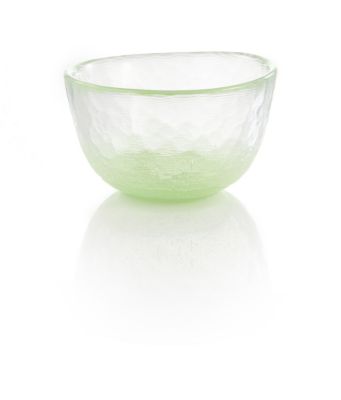 Teavana's Strawberry Pu-erh tea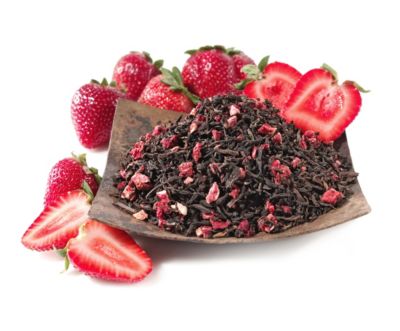 MAHARAJA CHAI OOLONG TEA blended with 
SAMURAI CHAI MATE TEA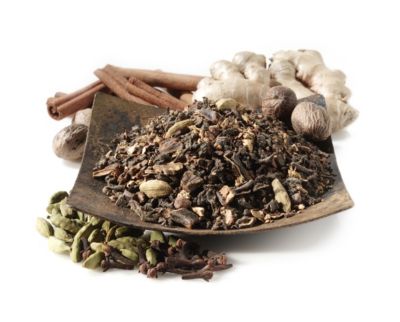 and, of course the Laughing Buddha Teapot, which at 27 oz. is one of the biggest of the Yixing offerings (most are under 12 oz).
Now, of course, I had to test them out. And here is my review.
First off, the teapot is absolutely "perfect" in terms of being exactly as represented. It has a great feel when pouring and doesn't DRIP. However, because it has such a cute design, this is its major flaw. The handle gets in the way of easily filling it with hot water. The opening is too small for getting one's hands into; so, I wasn't willing to use loose tea -- used an infuser ball, which still wasn't the easiest to get out. None of this was a surprise as I'd read reviews before I purchased; I bought it for size and design; but, probably wouldn't use it for daily teamaking. There is something very ritual about using it that is its own glory. No regrets, but I will look for a more practical teapot, or just go back to using the Keurig for hot water and tea infusers for ordinary usage. 
The Strawberry Pu-erh is really great tasting tea. Pu-erh has a reputation for being rather earthy (moldy) smelling and has a very usual taste vs other teas. I'd previously bought some through CoffeeBeanDirect and was only so-so about the experience. It definitely was one of the mildest teas I've ever used and did stand up to multiple infusions. I've found many fruity blends to be less than fruity -- the flavor and scent on this one is great -- and is still tasting strawvberry in the 2nd infusion. 
Teavana is now owned by Starbucks; however, I will definitely be following their sales and ordering some additional blends. I'll wait to test out the Samurai sample . . . I'm already floating.
Absolutely no regrets.
One of the things that I've been noticing about the focus on teas, and even coffee to some degree, is that while the Keurig is supposed to be fast, and it is, I'm including more ritual into everything I'm making -- taking more time to notice and appreciate. I'm enjoying scent, texture, and even visual, rather than just grabbing a mug and filling it. Part of this is due to the research I've done about Pu-erh teas -- learning about everything from the picking, the processing, and the rituals used. I even watched a YT video on "making the teapot" before firing. But, part of it is being willing to invest more of myself into the process rather than the typical American rush for speed -- gulping or wolfing drink and food. I suspect that some of this is a willingness to BE part of the experience rather than just doing. 
I think I'm finally really experiencing being retired and no longer on a timeclock. I can and do take as much time as I want to. The internet can wait. :)